Condoms are barrier birth control method that block the sperm going into vaginal canal if used properly and avoid pregnancy. However, pregnancy is not the only reason to use it. Condoms also prevent from exchanging blood or vaginal fluids. Therefore, it protects from HIV or STD. These are most popular brands of condoms.
Trojan – "A smart choice"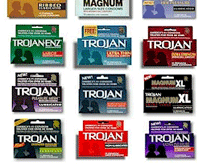 Condoms of this brand are extremely popular and commonly used in The United States of America. Trojan brand condoms are made from latex which indicates high effectiveness and reliability in pregnancy prevention, HIV and STD. They are also easy to use and everyone can get a free sample from the website to make sure that all these facts are true. However, if we take a look to the product line, we will not find a condom under the name of "extra safe", "ultra safe" or something similar as all the condoms are manufactured from latex combined with spermicidal lubricant. The latter diminishes the number of active sperm so the chance to get pregnant is extremely low even if sperm goes out of the condom. The most popular type is "Trojan Her Pleasure".
LifeStyles – "Proven Protection That Feels Really Good"
Water-based condoms of this brand are manufactured from latex that is stretched. All the condoms undergo scrupulous quality control, strenuous water, air inflation, automatic electronic testing and other tests to provide worldwide quality and requirements. LifeStyles are also using new formula that enhances sexual function of men ad includes significant minerals and vitamins. Therefore, you get perfect combination of reliability, sensitivity and comfort at the same time.
Durex – "75 years of great sex"
Durex is acknowledged as one of best condom brands in the world and it is the most popular condom brand in UK. These condoms are manufactured from highest quality of natural latex. But before that it undergoes the highest quality of tests. Different preservatives and stabilizers are added after that so it could serve reliability. Moreover, they are tested electronically and in the case of even a smallest breakage that your eye could hardly notice the condom is immediately illuminated. To move on, Durex condoms are tested with air inflation and quality test. Finally the thickness and size tests are taken. Probably this is the reason why this brand has a pretty wide product line – you can choose from 'extra safe', 'pleasuremax', 'comfort xl' and far more. It is important to note that bestseller is considered to "Durex Fetherlite".
Condoms reliability
In general condoms gives percentage as high as 98% of effectiveness in assuring that after proper its usage women will not get pregnant. Failure of the condom usually results in improper using. To move on, in avoiding HIV there are latex condoms that are extremely effective. If you use a condom, the possibility to be protected from this disease is 10 000 higher than without it. For the protection from some STDs latex condoms are also a wise thing to choose. If we consider breakage and slippage, so you have to admit that this phenomenon is practically impossible to happen in the case you use condoms properly. According to consumer report, the most assured condoms against breakage are 'Excita Extra Ultra-Ribbed, Spermicide'. Then comes 'Ramses Extra Rubbed, Spermicide', 'Sheik Elite' and 'LifeStyles Vibra-Ribbed'. It was estimated that not a single condom broke out of 353 condoms which were used by workers in 'intimate sphere'. It was only two (which gives only 0,4%) that slipped off.